-

DATE

VENUE

ADDRESS

NOTES
---
May 11
Saturday
9:30pm

BIRTHDAY PARTY
Hyatt - Paramus, NJ


PRIVATE EVENT

Tramps Like Us is available for all types of private functions including corporate events/parties, fundraisers, weddings, Bar & Bat Mitzvah's, birthday and anniversary parties, as well as bar and concert venues.
CLICK HERE FOR INFO
---
---
---
May 31st
Friday
9:30pm

PRINCETON UNIVERSITY
10th Year Reunion
Princeton, NJ


PRIVATE EVENT

Tramps Like Us is available for all types of private functions including corporate events/parties, fundraisers, weddings, Bar & Bat Mitzvah's, birthday and anniversary parties, as well as bar and concert venues.
CLICK HERE FOR INFO
---
June 1st
Saturday
9:30pm

PRINCETON UNIVERSITY
35th Year Reunion
Princeton, NJ


PRIVATE EVENT

Tramps Like Us is available for all types of private functions including corporate events/parties, fundraisers, weddings, Bar & Bat Mitzvah's, birthday and anniversary parties, as well as bar and concert venues.
CLICK HERE FOR INFO
---
June 8th
Saturday
1pm


WEDDING
Pleasantville, NY
PRIVATE

Tramps Like Us is available for all types of private functions including corporate events/parties, weddings, Bar & Bat Mitzvah's, birthday and anniversary parties, as well as bar and concert venues.
CLICK HERE FOR INFO
---
---
June 14th
Friday
9:30pm

MTK TAVERN
30 East Main St. Mt. Kisco, NY
914-218-3334
ADVANCE TICKETS HERE
With a top-notch staff behind the bar and over 100 spirits to choose from, including a special whiskey and tequila section, there will be something for everyone. In addition, we will have ten taps of international and domestic beers from some of the top microbreweries in the world. For the grape lover, we will store a select mix of handpicked small vineyard offerings, as well as some bottles from more established vineyards from the U.S. west coast.
---
June 21th
Friday
7pm


PATRIOT PLACE
Two Patriot Place
Foxborough, MA 02035
DIRECTIONS HERE

Adjacent to Gillette Stadium, Patriot Place features more than 1.3 million square feet of shopping, dining, and entertainment. You will find major fashion retailers, live and interactive entertainment, eateries, a four-star hotel, state of the art theatre and much, much more.There is something for everyone at Patriot Place... a once in a lifetime experience, every day!
---
June 28th
Friday
9pm


WICKED WOLF TAVERN
120 Sinatra Drive,
Hoboken, NJ
201-659-7500
DIRECTIONS HERE

Back at Hoboken NJ's
HOTTEST new night spot.

Don't miss this show!
---
HAVE TRAMPS PLAY YOUR NEXT SPECIAL EVENT
CLICK HERE FOR MORE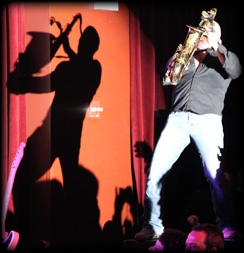 Turn any regular party or special event into a Rock n' Roll Extravaganza that will have your guests talking for years to come... Tramps Like Us is available to perform at all types of special events and venues such as:

Theaters • Colleges • Outdoor Festivals • Night Clubs & Bars • Corporate Events • Fundraisers •
• Birthday Parties • Weddings • Bat & Bar Mitzvahs & more! •